AirFort has a very adaptable and scalable set of modules and cloud services that help transform the network into a reliable, adaptive and scalable entity, and outperform the expectations. The network devices are complemented by equally rich set of cloud services that help the enterprise expand without feeling the horizon.
AirEdge – Fax Server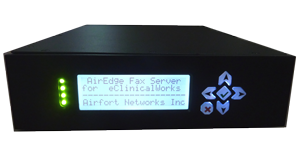 AirEdge provides the best of the breed fax server solution. The solution has been specifically tailored to act as a Server to eClinicalWorks applications and is the recommended Fax Server for the health sector. The scalable fax solution starts from a single line fax and can scale to support ten analog fax lines. The system also supports internet fax and eClinicalWorks fax service interface.
In addition this interfaces with ultra-high speed faxing for the subscribers of Airfort FaxNet Solution, which reduces faxing cost, increases throughput yet maintaining high resolution quality documents. The Fax Server also provides 200 Gb of network storage.
The system can also be upgrade to support High Availability, bandwidth on demand and other network features.
Buy now
AirEdge – High Availability Interface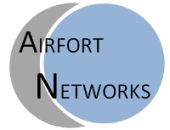 AirEdge high availability routers are the most non-intrusive auto adapting high availability router. They can function as stand-alone routers in tandem with Industry standard routers (Cisco, Juniper etc.). The system can provide lossless transition between external networks. The system also supports persistent VPN that allows VPN to be connected despite end point address changes. In conjunction with the Airfort Always connected cloud service the system is never out of reach for both incoming connections and outgoing transactions.

Buy now
AirEdge – Bandwidth on demand Routers
To meet the dense proliferation of applications into the cloud most of the organizations are over provisioning their network; similar to having a freeway terminates at your house in anticipation of traffic. Airfort provides the most scalable approach to bandwidth constraint. It monitors the traffic and adds bandwidth as required, thus providing an efficient economic approach to bandwidth scalability. The total bandwidth is available as a single high bandwidth device. The system also prioritizes latency and jitter sensitive traffic like video over network tolerant traffic like backup and emails. The system is the only elastic bandwidth on demand solution in the world today and provides patented approach for the best of the breed bandwidth availability. The bandwidth on demand router has already been proven for HD video transmission for news agencies and mobile surveillance network.

Buy now
AirEdge - Application routers
Applications that have been designed for within the office connectivity are moving into the cloud. The applications not only need a secure and dynamically configured cloud presence but should be able to interface with the conjugate applications in the enterprise and branch offices / client sites. However several instance the network resource conflict results in costly delay or abandoning the application.
Airfort provides the solution by providing a virtual network layer to the application thus application for every client seems to be residing in its own virtual space. The AirEdge application gateway also enables authenticated access to the application from outside the network with per session based firewall traversal and also logging all such secure external access activity. AirEdge is the only network element in the world providing this breed of network virtualization service for the application and external access in a secure manner into a secure environment.

Buy now